CHEERCATION: Kalahari The Final Expedition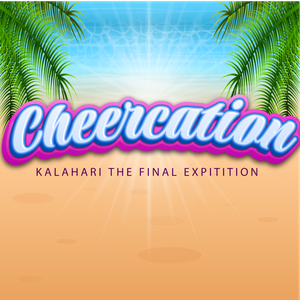 April 1st-2nd, 2023
PRELIMINARY SCORES
Preliminary scores will be available here approximately 2 hours after divisions are complete. Check back on Saturday for the link!
Join our Spectator Band Group! Stay up to date on all things Cheercation Kalahari. You will find schedules, family fun details, and more! JOIN NOW
TICKETS PRESALE
Beat the rush on event day and get your spectator wristband early! On Friday night 3/31 from 8pm-10pm we will be selling spectator tickets. Event tickets will be sold at the Kalahari Convention Center at the ticket office near the top of the escalator.
Please remember tickets are CASH ONLY, and when purchasing a youth, senior, or military ticket the person must be present with you. Seniors and Military members must present valid ID at time of purchase.
SPECTATOR FEES
TICKET PRICES BELOW INCLUDE FAMILY DAY DISCOUNTS!

SINGLE DAY
Ages 0-5: FREE
Youth (6-12): $10
Adult: $20
Senior: $10
Military: $10
TWO DAY
Youth (6-12): $20
Adult: $35
Senior: $20
Military: $20
*Senior & military must present valid ID when purchasing their ticket.*
FAMILY DAY
NEW THIS SEASON! We are featuring FAMILY DAYS at several of our events. These days will feature interactive games and activities for friends and family. We are also offering discounted admission to the competition! Seniors and children ages 6-12 will receive half priced admission on family days.
KALAHARI INFORMATION
KALAHARI ROOM BLOCK: SOLD OUT
Our room block offer is a discounted rate for our customers and will be first come first serve. Once this block has sold out we will not be receiving more rooms from the hotel! Please reach out TO THE HOTEL DIRECTLY for questions.
PARKING
FREE Parking is available on site!
FAN VIEWING AREA
Cheer America will provide a designated area for parents to view their team! Please line up one team in advance of your team. Please exit immediately following the performance.
PRIZES
1st Place: Individual Jackets and Gym Banner
2nd and 3rd Place: Gym Banner and Individual Medals
GRAND Champions: Gym Banner and Athlete Gift
Showteam, Novice, & CheerAbilities: Individual Banners
PAID BIDS TO THE ONE
ALL ATHLETES RECIEVE A GIFT!