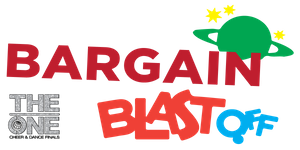 ROUND ROCK SPORTS COMPLEX
2400 Chisholm Trail
ROUND ROCK, TX 78681
Important Fan Information!
Parent and Fan Covid Restrictions 11/14/2021
The Round Rock Sports Center will not be implementing restrictions upon the athletes or spectators to the event. Cheer America has informed the program owners and coaches of the plan for the Bargain Blast-Off this Sunday. The program owner and coaches will determine any covid protocol they deem necessary for their athletes.
Doors will open for spectators at 8am.
The event is in three smaller sessions each with its own award ceremony. We ask that parents and fans arrive shortly before their athletes' performance to alleviate crowding.
The performance surfaces will be sanitized before each session and each athlete is asked to sanitize their hands before the first station in warm-up (sanitizer will be provided). Athletes are to bring their own water bottles with them to the event.
Spectators are welcome to attend the Awards Ceremony for their athlete at the end of the session.
Thank you for help and for supporting Cheer America!
PARKING
FREE Parking is available on-site!
REGISTRATION FEES
All-Star Elite/School/Prep/Rec/Dance (per athlete): $59
Exhibition/Novice (per athlete): $39
Crossover Discount: N/A
Individual/Small Groups: $59
PRIZES
1st Place Gym Banner and Individual Medals
2nd and 3rd Place win a Gym Banner
Grand Champion Teams Win Banner
All Participants receive a gift

Exhibition Teams will receive an Individual Mini Banner
Bids to The One Finals
SPECTATOR FEES
Spectator Fees $20
$15 Military and Senior Citizens
5 yrs and under are FREE
PERFORMANCE SCHEDULE
The official Performance Schedule will be released Monday the week of the event.
FAN VIEWING AREA
Cheer America will provide a designated area for parents to view their team! Please line up one team in advance of your team. Please exit immediately following the performance.