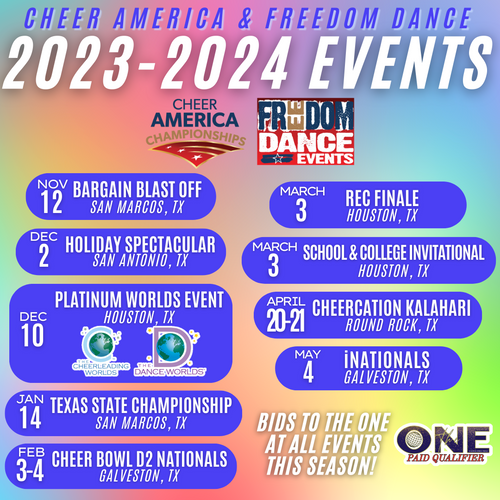 WORLDS TEAMS ONLY WILL COMPETE 2 DAYS: Worlds Prelims will start at 6pm Saturday night and Finals will be throughout the day Sunday!
All non-worlds teams will compete once on Sunday.
Bids to: THE ONE, USASF CHEERLEADING & DANCE WORLDS
Jan 14, 2024

San Marcos, TX
Feb 3-4, 2024

Galveston, TX
Bids to: THE ONE

D2 only applies to All Star cheer programs.

All School, College, Rec, and Dance teams are welcome at Cheer Bowl!
SCHOOL & COLLEGE INVITATIONAL
CHEERCATION NATIONALS: KALAHARI
April 20-21, 2024

Round Rock, TX