November 15, 2020
Video Submission Competition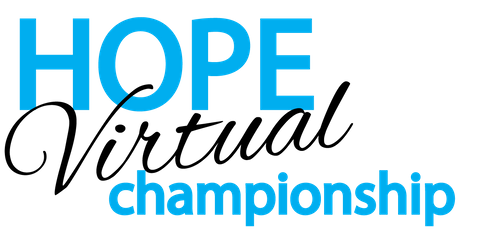 HOPE VIRTUAL CHAMPIONSHIPs
Film your routine in its entirety using your own equipment.
Videos will be judged by an official Cheer America Judging Panel.
A link to the virtual competition will be shared on our website on November 15th.
Results reveal will be on our Facebook and Instagram Pages.
Scoresheets, Deductions and Breakdowns will be emailed to the coach on file for each team.
Prizes will be mailed to the teams on November 15th!
REGISTRATION FEES
All-Star, Dance, School, Rec $30
Exhibition/Novice $30
Additional Dance $30
Individual/Small Group $30
All Prices are per athlete.
PRIZES
Series Grand Champions Jackets*
The One Finals Paid and At-Large Bids
First Place Team Banner and Individual Ribbons for All Participants
Cheer America Social Media Take-Over by Division Winning Teams
2nd and 3rd Place Teams win Individual Ribbons for All Participants
Individual and Small Group Ribbons for all Participants
SurPRIZES are new Virtual Awards that will be given during the Virtual Awards Ceremony and/or Ranking Reveals
* Jackets will be awarded after the third virtual championship. The highest level score of the series in Levels1-6, one dance team, one and one prep team will win the jackets. Teams do not have to attend all three to Virtual Championships to win. Jackets will be shipped immediately following the awards.
Hope Championships Information and Video Requirements
How will it work?
This will be our first virtual championship. We are keeping the rules simple for everyone this first time around. All video will be pre-recorded in your gym with your team and submitted by Saturday, November 14th by 12:00 PM. Early submissions will be accepted. Cheer America
will distribute the videos to our judging panel. The videos will be judged in the same manner
as an In-Person Cheer America Championship. The judges will rank the teams and the Cheer
America Video Production Team will put the show together and release a link to all participating team coaches at 6:00 PM on Sunday, November 15th!
Video Submission Requirements
· Videos must be in .mov (Quicktime) or .MP4 format
· Videos must be shot landscape (horizontally)
· Videos must be shot from this season and for the Hope Championship! Video information must be intact (this is automatically stored when video is recorded)
· Each team may only submit ONE video by Saturday, November 14th (by 12:00 PM)
· Teams do not need to walk-in. Please begin video at the start of the routine.
· The entire routine must be seen. All stunts, jumps and tumbling must be in the frame at all times.
· Anything not in frame will not be judged.
· No pre-editing videos. All videos must be shot from the front with NO EDITS.
· Please submit your videos to videos@cacheermail.com (Please include: the words Routine Submission in the Heading of your email)
· All video attachements must include Program Name, Team Name, Division, Level, and Coaches Names