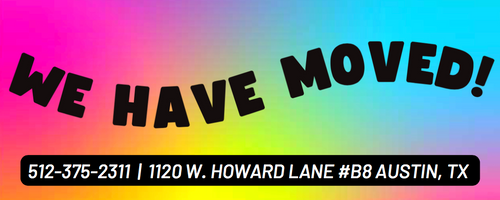 Cheer America Championships has moved offices. In this time of transition we have been experiencing some phone delays, so please use the new number listed.
We are looking forward to a great 2022-2023 season, see you all soon!

512-375-2311 | 1120 W. Howard Ln. #B8 Austin 78753
CHEER BOWL NATIONALS - Book a room now!
Reserve your room at Moody Gardens for a discounted rate using the button below! For more information and room block details navigate to the Hotels tab.
REGISTRATION IS OPEN!
Register for our 22-23 event season using the button below! For more information and registration details navigate to the registration tab.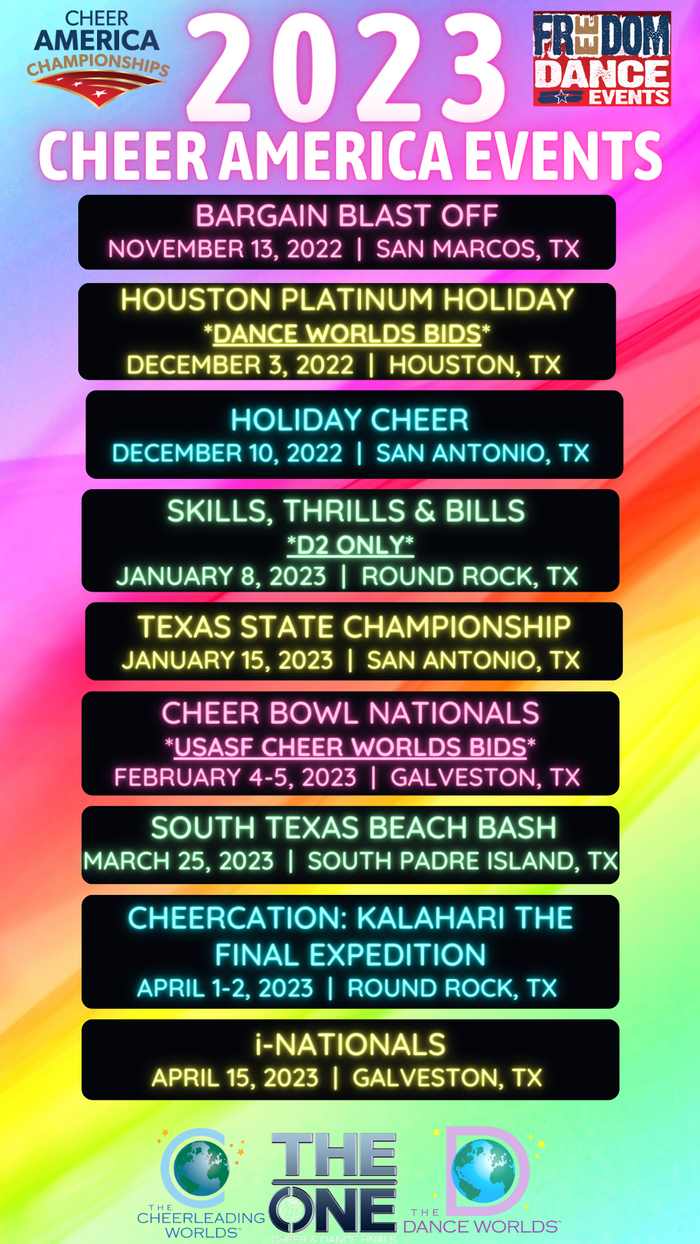 NOVEMBER 13th, 2022
TEXAS STATE
SAN MARCOS, TX
& DANCE WORLDS BID QUALIFIER
DECEMBER 3rd, 2022
NRG CENTER
HOUSTON, TX
DECEMBER 10th, 2022
MISSION CONCEPTION SPORTS COMPLEX
SAN ANTONIO, TX
D2 ONLY EVENT
JANUARY 8th, 2023
ROUND ROCK SPORTS CENTER
ROUND ROCK, TX
JANUARY 15th, 2023
ST. MARYS UNIVERSITY
SAN ANTONIO, TX
& USASF WORLDS QUALIFIER
FEBRUARY 4th-5th, 2023
MOODY GARDENS
GALVESTON, TX
MARCH 25th, 2023
SOUTH PADRE ISLAND CONV. CENTER
SOUTH PADRE ISLAND, TX
APRIL 1st-2nd, 2023
KALAHARI RESORT & WATERPARK
ROUND ROCK, TX
APRIL 15th, 2023
MOODY GARDENS
GALVESTON, TX

THIRD EVENT FOR ONLY $30 PER ATHLETE!
Teams that attend two Cheer America Events in the 2022-2023 season can attend a third event for ONLY $30 per athlete. *If the third event attended is a two day competition it will be $30 off per athlete.*
NOVICE & EXHIBITION TEAMS, $45 PER ATHLETE, ALL SEASON!
All novice and exhibition teams can register for only $45 per athlete at all events this season. This EXCLUDES late registration for our Cheer Bowl, Kalahari, and i-Nationals events. Late registration for Novice ad Exhibition teams at these events will be $55 per athlete.
HALF-PRICE ADMISSION FOR AGES 6-12, & SENIORS AT FAMILY DAY EVENTS!
NEW this season, we are featuring Family days! These events will have interactive games and activities for spectators, as well as half-price admission for ages 6-12, & Seniors.
SCHOOL TEAMS $59 SPECIAL AT OUR HOLIDAY CHEER EVENT!
We are offering our school teams a special of $59 per athlete to attend our HOLIDAY CHEER event. This event will be held on December 10th, 2022 in San Antonio, Texas.

Cheer America is proud to partner with Rebel Athletic.
Check out their website for all of your apparel needs.