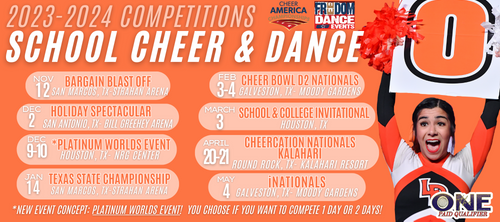 This page includes all the divisions, rules, and scoring information for SCHOOL CHEER. This information is subject to updates and changes, please check back to find the most up to date documents.
All School Cheer scoring documents are up to date for the 2023-2024 season. If you have any questions please send us an email info@cacheermail.com
SCHOOL CHEER DIVISIONS & RULES
Cheer America offers three different types of School Cheer routines:
Crowd Leading, Performance, and Game Day.
CROWD LEADING
Crowd Leading divisions focus on leading the crowd with effective material. Routines will include transitional stunts/pyramids, but will have a cheer section encouraging a crowd response similar to leading the fans on game day! Teams can use all sideline appropriate props such as signs, poms and megaphones in routines.
Routine maximum time: 2 Minutes 30 seconds
PERFORMANCE
Performance divisions showcase the athletes skills and focus on visual elements. Routines will consist of transitional stunts, pyramids and a cheer. In the Performance divisions it is not required that the cheer encourages crowd participation.
Routine maximum time: 2 Minutes 30 seconds
GAME DAY
Teams in the Game Day Divisions will showcase a Band Chant, Game Day Cheer, and Fight Song.
In the Spirit Rally division cheer teams have the option to include dancers, mascots and/or band members. This division celebrates how spirit programs work together to enhance their school game day!
Routine maximum time: 3 Minutes